Paradise Artist Retreat
Schedule of Events
Four days of inspiration, learning, and art creation
Note: Schedule subject to change.
Monday March 25
9-11am- Registration, check in and setup
10:30am-12:30pm- Figure Drawing with Guy Aitchison and Shawn Barber

2-5pm- Shawn Barber's Heads and Hands Workshop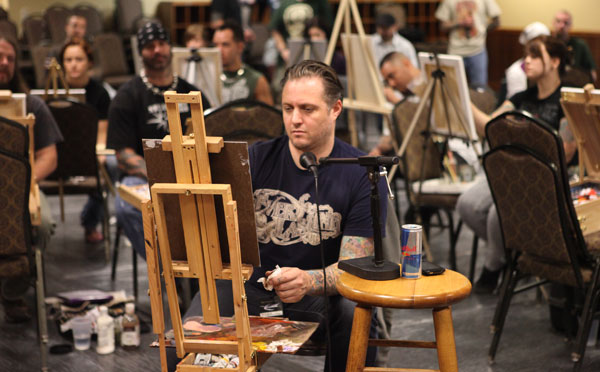 Drawing Heads and Hands
In this workshop we will go over the essential foundations of drawing human heads and hands. The structure and anatomy of human heads and hands will be analyzed, with concentration on their distinguishing components. Consideration for line, gesture, form and mark making will be explored. Presentation through examples, drawing demonstrations and optional drawing exercises.
Supply List
* drawing paper/sketchbook
* kneaded eraser
* pencils (2H / HB / 2B
5-8pm- Group painting & art creation
Portfolio critiques with Alex and Allyson Grey
8-9pm- Discussion Panel: "Tattooing and Visionary Art"
Moderated by Alex & Allyson Grey

9-10pm- Opening Party
10pm-1am-Group painting and art creation
Tuesday March 26
7-8:30am- Yoga with Jennifer Schichi
9am-noon- Landscape Painting with Jennifer Schichi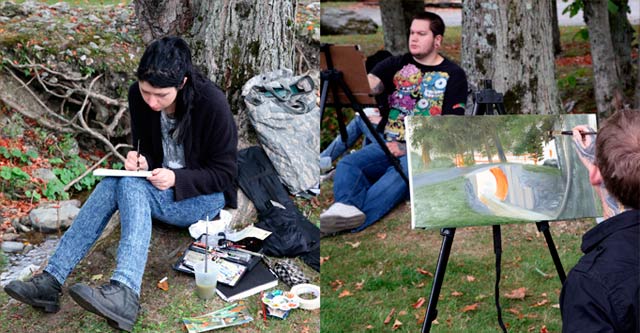 Materials list for Landscape painting class
NOTICE: THERE ARE 2 LISTS- ONE FOR ACRYLIC AND ONE FOR WATERCOLOR
Choose which medium you're interested in and follow that list.
materials list for watercolor:
Camera,
Easel- (optional),
Eye dropper,
small containers for water,
Blue painter's tape, if you're painting on single sheet of watercolor paper taped to board
11x14- 12x16- 140 lb cold press or higher watercolor pad or "block Any thinner will buckle unless its prepped by attaching it to a board before hand. Most papers are cold press- meaning they have a texture, or "tooth". Hot press is much smoother.
watercolor brushes
2" flat brush (think magnum needles)
1" brush
#10 round
#4 liner
Small spray bottle
Plastic palettes with indents to hold watercolors with large area for mixing and lid or plastic bag. TRAVEL TIP- Squeeze a fair amount of paint in the indents in the palette. Let them dry here and become your permanent travel kit. They will be activated with water. Refresh from the tube when needed. Minimizes excess baggage in the field, and little caps get dropped and lost.
5-10 paper towels
Paint: watercolor tubes- I like the Windsor Newton, Cotman brand but any brand you get at the art supply store will be good.
A full palette would be:
Virdian hue (green) Thalo green, olive green, chrome green (lime green)
cadmium yellow, cadmium orange, yellow ochre, naples yellow
raw umber burnt sienna
cadmium red, Indian red, alizarin crimson, rose dore', Winsor violet
Cerulean blue, prussian blue, cobalt turquoise
Payne's gray, Ivory black
Materials list for ACRYLICS-
Camera,
Easel- (optional),
small containers for water,
5-10 paper towels
Blue painter's tape, if you're painting on canvas paper
11x14- 12x16 canvas board, gesso board or canvas paper taped to board
Small spray bottle,
palette knife
Plastic palette with large area for mixing and lid.
Palette paper- makes for easy cleanup
Brushes
2" flat brush (think magnum needles)
1" brush
#10 round
#4 liner
Paint: Liquitex "Basics". Inexpensive, They're fluid and creamy, can use them right out of the tube, mix from there. TRAVEL TIP I recommend bagging your paints 5-10 paints per/ in a Ziploc bag. In case one leaks your mess is minimized. (Just like tattoo inks)
A full palette would be:
Phthalocyanine green
Chromium oxide green
Emerald green
Turquoise green
Brilliant yellow green
cadmium red light,
cadmium orange,
cadmium yellow deep,
cadmium yellow light
Ultramarine blue,
Cerulean blue
phthalocyanine blue
Burnt umber
Burnt sienna
Titanium white
Mars black
Also: I like the 99 cent craft paints at MICHAELS come in pre mixed pastels and work really well. Not as opaque as the Liquitex
1-4pm- Chet Zar's Painting a Monster
Supply list:
Painting surface- Canvas or panel, 11x14"- 16x20"
Portable easel
Brushes- Various sizes of bristle filberts and synthetic or sable small rounds/liners (for detail work)
Turpenoid or Gamvar and jar
Pallette knife
Paint palette
Papers towels or rags
Liquin paint medium and jar or pallette cup to hold it
Oil paints:
Titanium White
Yellow Ochre
Ivory Black
Prussian Blue or Thalo Blue
Manganese Blue Hue
Cadmium Scarlet
Alizarin Crimson
Burnt Umber
Burnt Sienna
5-8pm- Jeff Gogue: Art Core Isolation Training - 6 principles of successful design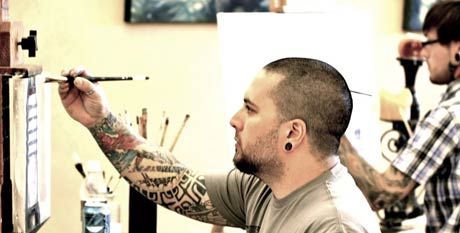 8-10pm- Group Painting & Art Creation
10pm-2am - Body & Soul Drawing Ritual with Alex and Allyson Grey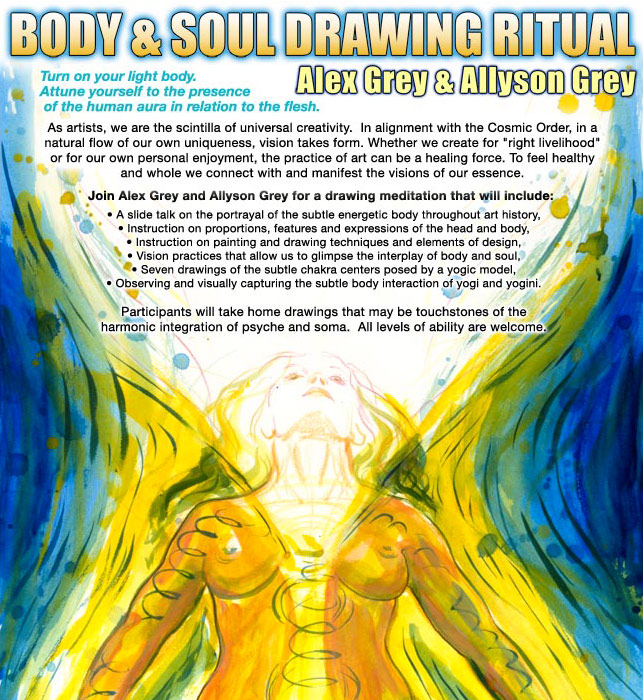 Participants will take home drawings that may be touchstones of the harmonic integration of psyche and soma.
All levels of ability are welcome.
Materials list:
Pencils and pens for drawing
graphite pencils -- 2B, 3B, 4B, HB (a few or all)
Colored pencils -- 20 or more colors
Kneadable eraser and other preferred types
Pencil sharpener
Drawing pad with heavy paper -- 11" x 14"
Watercolor block (optional but recommended)
Watercolor or acrylic paint set (optional but recommended)
Good quality watercolor brushes of various sizes
Easel (optional) -- work tables will be available. Bring a travel easel, if you need one.
Students are encouraged to use the best quality material they can afford.
Wednesday March 27th
7-8:30am- Yoga with Jennifer Schichi
9-11am- Figure Drawing
Noon-4pm- Alex & Allyson Grey Workshop, Session 2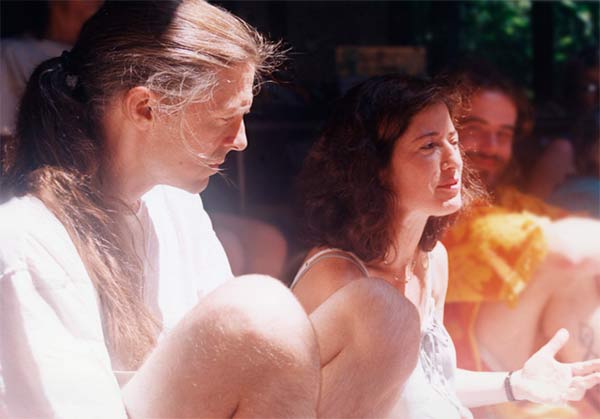 5-8pm Nick Baxter: Sharp-Focus Realism: The Secrets of Glazing and Layers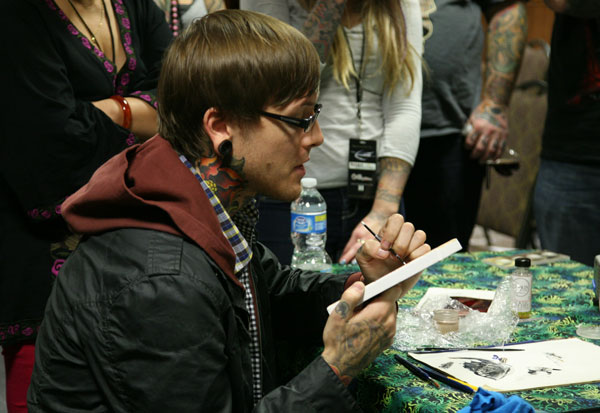 9pm-1am- Group painting & art creation
10pm-1ish am- Alla Prima at Night with Shawn Barber
Alla Prima painting is an age old tradition for artist's to hone their observational drawing and painting skills by creating a 'finished' piece in one session.
We will be working from a model, from life: specifically head/portrait painting from observation.
I would suggest using a limited palette for this workshop
here's the suggested supply list:
OIL PAINTS (preferably Winsor Newton Artist Grade / Gamblin / or comparable(not winton)
1- TITANIUM WHITE
2- YELLOW OCHRE
3- CADMIUM SCARLET OR VERMILLION OR CADMIUM RED LIGHT
4- BURNT SIENNA
6- MANGANESE BLUE HUE OR ULTRAMARINE BLUE OR COBALT BLUE
7- IVORY BLACK
* CANVAS OR PANEL- ANY SIZE FROM 9"X12"-18"X24"
* ASSORTED BRUSHES:
SYNTHETIC AND BRISTLE, MOSTLY FILBERTS/ A COUPLE OF SMALL ROUNDS
* GLASS TURPENOID JAR WITH LID / TURPENOID OR GAMSOL
* PORTABLE EASEL
* PALETTE (WOOD, GLASS, OR DISPOSABLE)
* RAGS OR PAPER TOWELS
* PAINTING MEDIUM: LINSEED OIL OR GALKYD SLOW DRY
Thursday March 28th
9am-noon- Dynamic Figure Drawing with Hannah Aitchison
12:30-3:30pm- From Mind to Medium wih Guy Aitchison
The human imagination is an amazing thing... But transferring our visions from our brains to canvas or skin can be quite a trick. Guy will illustrate his toolkit of techniques for translating those fleeting visions into a rough sketch, then into a finished piece of art. Bring your sketchbook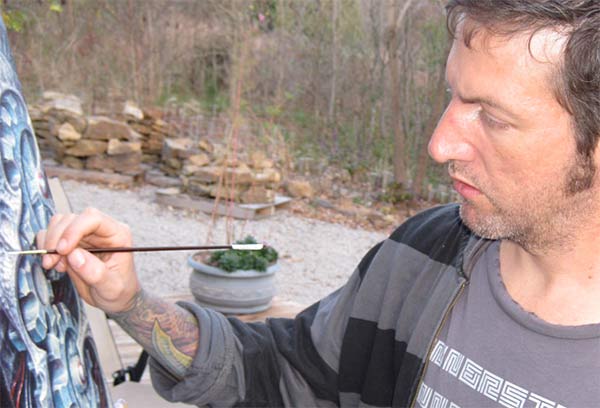 4-6:30 Art floor open to the public. Artists will show and sell art and merchandise!
Book Signing- Alex & Allyson Grey: Net of Being
Chet Zar: Black Magick
6:30-8 CoSM And The Entheon: A presentation by Alex & Allyson Grey
(also open to the public)
8pm- Event Ends. See you at the Paradise Tattoo Gathering in September!