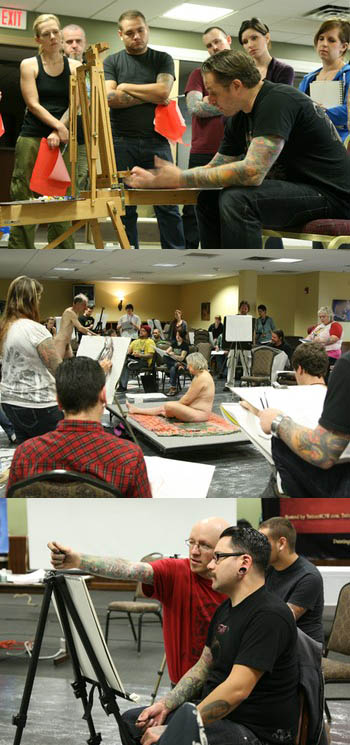 Excitement for the Paradise Artist Retreat's return to the Tamaya Resort in New Mexico is building every day! From March 25-28, this truly unique event will bring together scores of artists of all skill levels for four days of inspiration, learning, and art creation led by Alex Grey, Allyson Grey, Guy Aitchison, Jeff Gogue, Shawn Barber, Nick Baxter, Hannah Aitchison, and Chet Zar. Highlights of the retreat include a series of high-powered workshops with these noted instructors, along with morning figure drawing sessions, evening panel talks, and an open studio art room where artists can work side by side on projects of their choosing. On Thursday afternoon the event opens to the public. Alex And Allyson Grey will host a meet and greet and book signing, as will Chet Zar. Many of the artists will have works and merchandise for sale.
Seminar and workshop topics covered throughout the weekend include a visionary art workshop with Alex and Allyson Grey. Guy plans to go into detail about translating your visions from your mind to your artistic medium, while Jeff Gogue will focus on his energetic painting technique. Heads and hands will be led by Shawn Barber, and Hannah Aitchison will lead a figure drawing session with special emphasis on understanding the design aspects of the human figure. Chet Zar will lead a group painting session, and Nick Baxter will get into detail about his holistic process, where concept, design and execution all come together into a single big picture. It's a well rounded suite of workshops intended to benefit almost any creative person who is interested in learning.
The artist pass includes entry into all seminars from all the featured teachers, as well as the morning figure drawing classes and discussion panels. Of course, many artists will have originals and prints for sale, which can be displayed by their art setup in the open studio space. The event will be open to the public on the final day, providing an opportunity to show and sell original works or other merchandise.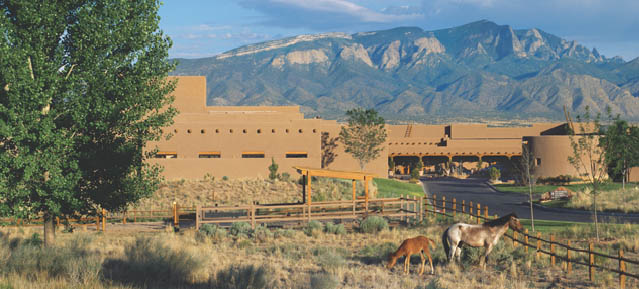 The Tamaya resort is a tranquil, picturesque location just north of Albuquerque- the perfect setting for artists to get away, hit reset, and return home with a fresh perspective as well as a few new technical tricks. If you are a creative person, the Paradise Artist Retreat is truly a unique, humbling and empowering event that you should experience at least once. Tickets are available now at our online store, and you can save $150 by signing up before January 31 to get the Early Bird rate. We are also offering a studio special where you can get four tickets at a discounted rate and bring the whole shop. We hope to see you there!
Guy Aitchison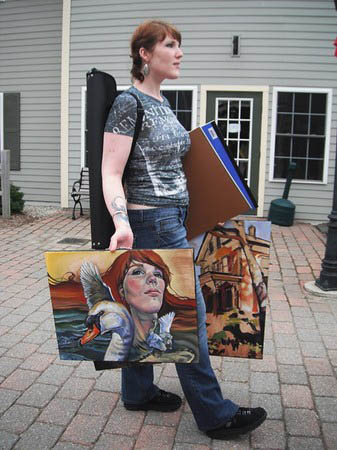 The Paradise Artist Retreat will be held March 25-28th at the amazing Tamaya Resort in New Mexico. While many painters toil away alone in their basement, this art retreat is an opportunity for artists to create alongside over a hundred other artists in an beautiful environment! Through the course of four days artists of all skill levels, from first time beginners to seasoned accomplished professional artists, will participate in numerous workshops, seminars, discussion panels, critiques, and art creation. While the event is supported by the tattoo community with the large portion of the attending artists tattooing for a living and traveling in, this event is free of tattooing, and open to artists of nearly any medium. Artist passes are moving and rooms are being reserved so make your plans and secure your spot.
Each attending artist will have a 5x5 space to set up and create and sell art. Last year the art rooms were the busiest from midnight to 3am, so we made sure the room will be open to create 24 hours a day to accomadate all the night owls! Not only will every artist be in a seminar or workshop with the headlining artists but there wil also be figure drawing workshops, a critique, a still life workshop, and entry into the opening party with an hour and a half of drinks on the house! The opportunity to be able to learn and create alongside so many artists, including some of the industry's leaders, is truly exceptional. Don't take it from us, go to the site to read the reviews!
The Tamaya Resort in Santa Anna Pueblo New Mexico is a perfect match for this event. Meaning "A quiet, special place", the Tamaya is on a Pueblo. Voted "Best in the World" by Conde Nast Traveler in 2010 and one of the top in the United States and Canada by Travel + Leisure magazine, this unique resort reflects an attention to detail unlike any you've ever experienced. The venue is very family friendly, in fact the many activities open to children and families throughout the week were recently raved about in Forbes magazine of all places. Check out this slideshow of the Tamaya resort. The food at the resort is delecious, and everyone in the room block will receive 15% off their meals and beverages as well as 10% off the Spa! In the past four years, the Paradise events have sold out the resort ahead of time and the room block rate and deals are only good until January 30th so make your plans sooner rather than later!
For press photos or an interview for your website or publication, please call Gabe at (413) 585-9134 or email us.
Booking Information
Call (888) 421-1442 or (402) 592-6464 for international callers.
Reference G-TATT for the group rate.
Take a vacation, room rate good for 3 days before and after the event!
Travel Information
Fly: Albuquerque, New Mexico airport (ABQ). Its a very nice and easy airport!
You have two options for transportation from the Albuquerque Airport.
1. The shuttle service we recommend is Southwest Carriage. (505) 766-5466. Shuttles run from 6am-6pm, on the hour. The shuttle costs $40 per passenger and advance reservations with a credit card are required.
2. The optional shuttle company is Sunport Shuttle, www.sunportshuttle.com or (866) 505-4966. They offer a shuttle for $40 one-way or $78 roundtrip. They charge $7.00 for additional passengers.
Press Image Gallery - Click for high res images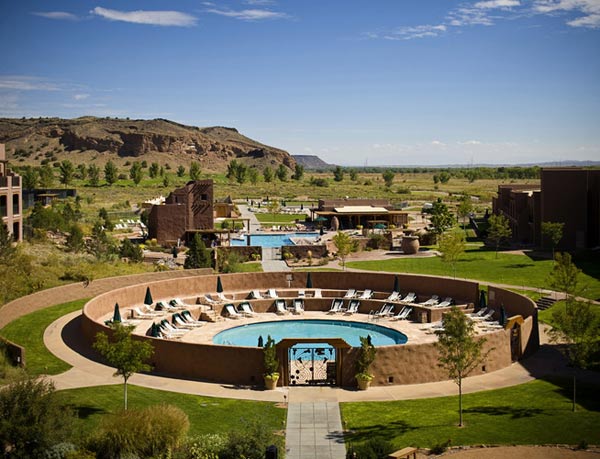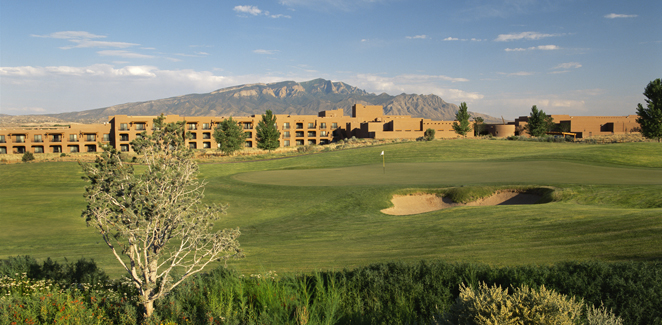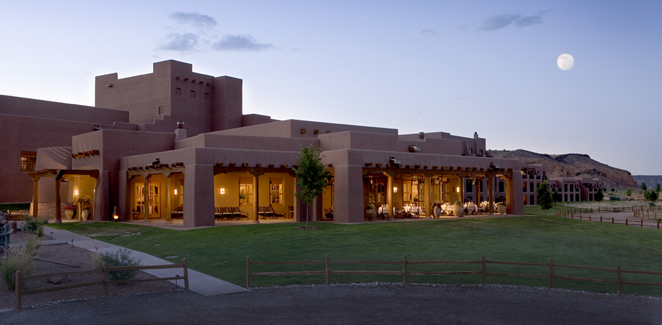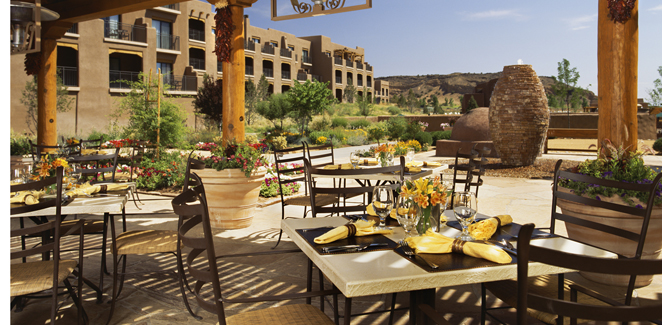 We work very hard so our events don't disappoint. Here are a few reviews from last year.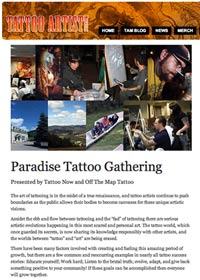 "Each September artists from all over the world visit the tiny town of Hancock, Massachusetts for the Paradise Tattoo Gathering tattoo convention. The annual gathering produced by TattooNOW and Off the Map Tattoo emphasizes art and tattoo education with seminars, workshops, discussion panels and world-class tattooing, of course.
Unlike the past two tattoo conventions held on the mountain, in 2010 the tattooers focused entirely on their unique, personal visions in their medium of choice –except this time no skin was allowed. The machines were left behind. And in some ways, this event conveniently isolates two major factors affecting this renaissance –the education and the expanding artistic vision of the tattoo world." Read the full Tattoo Artist Magazine Coverage.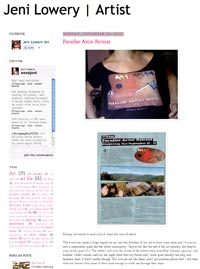 "This event has made a huge impact on me and the direction of my art in more ways than one. I've never met a community quite like the tattoo community. They're not like the rest of the art industry, but they're very much apart of it. The artists I met over the course of the retreat were incredibly talented, genuine, and humble. I didn't realize until our last night there that my friend and I were quite literally the only non-tattooers there. It didn't matter though. We love art just like them, and I got priceless advice that I will take with me forever from some of them kind enough to walk me through their steps." Read the full Paradise Artist Retreat 2010 blog by artist Jeni Lowery. There are lots of pictures, thanks Jeni!