02.20.13
Thanks Alberta Bound Tattoo & Arts Festivals!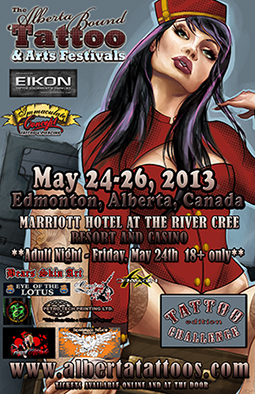 Alberta Bound Tattoo & Arts Festival returns to Edmonton.

We have new adjusted booth layouts and prices on our website at www.edmontontattoos.com
Add three incredible seminars to your booth purchase for only $300.00
Many artists have said they miss the smaller hotel shows from our first two years in Calgary and we have found the perfect venue at The Marriott Hotel at The River Cree Resort and Casino.
Three challenges, three different days, a trophy, $1000.00 cash and a prize pack from Eikon Device to each winner.

Special offer from TattooNow and Alberta Bound

Two for one booth offer. Book a space at The Paradise Artist Retreat and recieve a one artist space at the Edmonton show at no additional charge. This offer good this week only and limited to the first six inquiries.
All inquiries please email steve at steve@calgarytattoos.com
Join amazing artists such as Guy Aitchison, Alex Grey, Allyson Grey, Nick Baxter, Jeff Gogue, Shawn Barber and Hannah Aitchison for four days of painting, learning and inspiration.
Special hotel rates extended for this week only.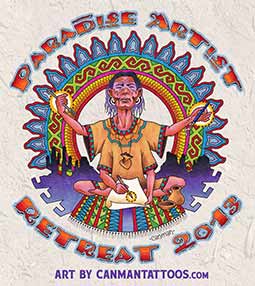 Paradise Artist Retreat
The Paradise Artist Retreat will be held March 25-28th at the amazing Tamaya Resort in New Mexico. While many painters toil away alone in their basement, this art retreat is an opportunity for artists to create alongside over a hundred other artists in an beautiful environment! Through the course of four days artists of all skill levels, from first time beginners to seasoned accomplished professional artists, will participate in numerous workshops, seminars, discussion panels, critiques, and art creation. While the event is supported by the tattoo community with the large portion of the attending artists tattooing for a living and traveling in, this event is free of tattooing, and open to artists of nearly any medium. Artist passes are moving and rooms are being reserved so make your plans and secure your spot.
Each attending artist will have a 5x5 space to set up and create and sell art. Last year the art rooms were the busiest from midnight to 3am, so we made sure the room will be open to create 24 hours a day to accomadate all the night owls! Not only will every artist be in a seminar or workshop with the headlining artists but there wil also be figure drawing workshops, a critique, a still life workshop, and entry into the opening party with an hour and a half of drinks on the house! The opportunity to be able to learn and create alongside so many artists, including some of the industry's leaders, is truly exceptional. Don't take it from us, go to the site to read the reviews!

The Tamaya Resort in Santa Anna Pueblo New Mexico is a perfect match for this event. Meaning "A quiet, special place", the Tamaya is on a Pueblo. Voted "Best in the World" by Conde Nast Traveler in 2010 and one of the top in the United States and Canada by Travel + Leisure magazine, this unique resort reflects an attention to detail unlike any you've ever experienced. The venue is very family friendly, in fact the many activities open to children and families throughout the week were recently raved about in Forbes magazine of all places. Check out this slideshow of the Tamaya resort. The food at the resort is delecious, and everyone in the room block will receive 15% off their meals and beverages as well as 10% off the Spa! In the past four years, the Paradise events have sold out the resort ahead of time and the room block rate and deals are only good until January 30th so make your plans sooner rather than later!