01.03.13
Paradise Artist Retreat Interview 2.-Chet Zar
Paradise Artist Retreat's teachers this year are Alex and Allison Grey, Guy Aitchison, Shawn Barber, Nick Baxter, Hannah Aitchison, Jeff Gogue, and Chet Zar. Leading up the event on March 25rd we'll be releasing highlights of each teacher.
Our second interview focuses on teacher Chet Zar.

Chet is from California and originally got his fame in the special effects industry. In the last 12 years Chet has made a name for himself in the fine arts world. You can find much more information about Chet on his personal website www.ChetZar.com

This year's paradise artist retreat in Tamya New Mexico is introducing a new format and artist line up. Can you give some details on your past experiences with the PAR.
Chet Zar:I love the Paradise Artist Retreat because it is so intimate and so focused on art education. You get to know people. It's less about business and more about sharing knowledge than most of the conventions I attend.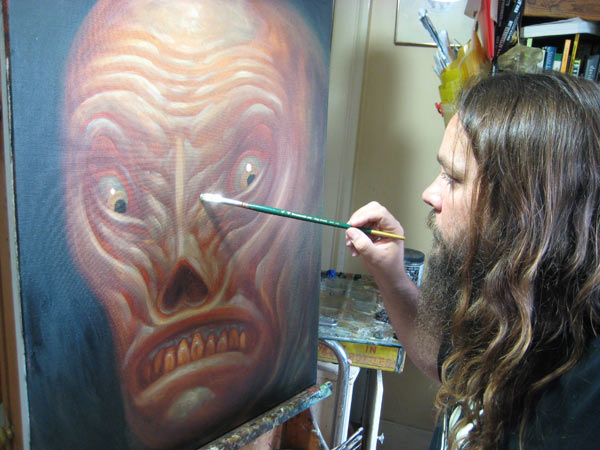 You've been participating actively with the tattoo community for some time now. Can you give us some insight on how that came to be?
CZ:Tattoo artist Jon Lane invited me to participate in the first annual Visionary Tattoo Expo in 2009. I thought I would give it a shot but when I got there I realized I had a pretty big fan base in the tattoo scene, something I was not at all aware of. It just kind of grew from there.
You recently attempted your first tattoo at this years Paradise Tattoo Gathering, have you done any since?
CZ: No, I haven't since. I was all hot to start messing around right after the event, while the experience was still fresh in my mind but ended up severely pinching a nerve within a day of getting home and that knocked me out of commission for about 6 weeks. Then I had to take some work to make up for the lack of income. That coupled with the holiday rush on orders from my website has kept me from really diving in. I'm not sweating it, though. When the time is right, it will happen.

"I like to Paint Monsters" is a new documentary coming out about you, do you have any details you'd like to share about that?
CZ:Well, we start shooting in January. I have no idea what will happen but filmmaker Mike Correll and I both have a similar attitude about it- to be open minded enough to let it develop on it's own. It's kind of exciting but also kind of weird to be the center of attention in that way. I hope he focuses more on the art than me. I'm actually pretty boring.


This year has a fantastic line up with a variety of different painting styles, are you excited for any of the other teachers classes?
CZ:All of them. I am always excited to learn from great artists in any field and these are some of the best.

Can you give us an idea on what your class will be focusing on?
CZ: I'm still figuring it out but it's going to be my best yet. When you are in a line up like that you have to bring your best to the table. But I always try to anyway.
Can you give us a bit of information on what it is like to paint at Paradise Artist Retreat?
CZ: It's super fun and relaxed. It's almost like a painting vacation for me!
To reserve your place at this years Paradise Artist Retreat in the beautiful Tamya Resort click HERE.
If you would like more information about Chet and his work you can visit his website: www.ChetZar.com