12.14.12
Paradise Artist Retreat Interview 1. - Nick Baxter
Paradise Artist Retreat will be lead this year by Alex and Allison Grey, Guy Aitchison, Shawn Barber, Nick Baxter, Hannah Aitchison, Jeff Gogue, and Chet Zar. Leading up the event on March 25rd we'll be releasing highlights of each teacher.
Our first interview will be focusing on Nick Baxter. I got to ask Nick a couple of questions about his career, evolution of the tattoo community and what his class will focus on.
You come from a very transitional period in tattooing--the television bubble wasn't yet where it is now, and educational materials were scarce. What was it like during your time and how has the landscape changed?
Nick Baxter: In hindsight, I really did get started at a very pivotal period (1999-2000), not realizing until recently how advantageous the timing was. The tattoo world was more manageable back then, none of the extreme trendiness, or glitz and glamour of the television bubble, as you called it.
But as we now know, the industry was poised to explode with lots of new opportunity. If you had artistic knowledge and could combine that with tattooing skill, you were virtually guaranteed success and notoriety. You just had to work hard, take the bits and pieces of information you could get from conversations with mentors and industry veterans, and make the best of it. I stayed focused and hungry, and was fortunate enough to make a good impression with my work on a lot of folks. Once the huge wave of popularity hit, that opened the door for the teaching, sharing, and educational products like my painting book.
Things are much different now, more complicated it seems. Because despite the advantage of having so much learning material, there is a huge influx of new tattooers all competing within an era of increasing economic insecurity, and this adds a whole new set of challenges. It's like learning got easier, while establishing oneself got more difficult. I'm excited to see where the newfound emphasis on artistic learning will take tattooing as a whole, though. It can only bring good things in the long run, as far as I'm concerned.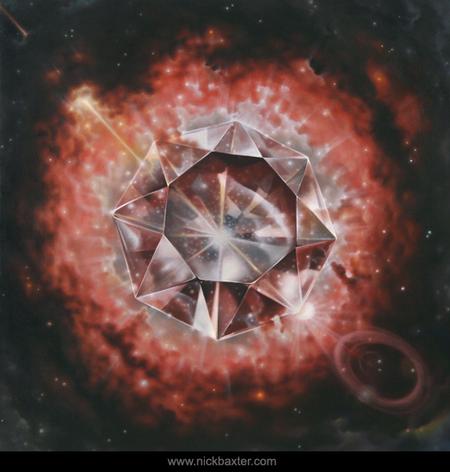 I've enjoyed watching how different mediums of art are starting to influence one another. Are you excited to be featured alongside such artists as Chet Zar and Alex Grey?
NB: Yeah, needless to say I'm really excited to see what happens with 2 artists of their talent and skill mixing with the tattoo art world. It's a great trend, I hope it continues and that more fine artists take notice of all the incredible creativity and artistic vision in the tattoo community these days. I think art-minded tattooers have the potential to revitalize and breathe fresh air into the sometimes stale and usually stuffy fine art establishment, and artists like Chet and Alex are ambassadors of sorts to that world.
Can you give us an idea of what your class will be focusing on?
NB: My class will focus on realism in oil painting--how to create next-level illusions and effects through techniques such as layering and glazing. I'll cover basic use of materials and give some philosophical background to the indirect (or layered) painting approach. I'm prepared to tailor the class to whatever best suits the participants, and for any willing volunteers, I'll demonstrate glazing techniques on their actual paintings, to show them firsthand how to take them to the next level.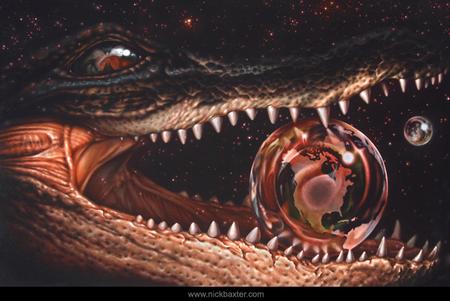 Can you give us a bit of information on what it's like to paint at Paradise Artist Retreat?
NB: First of all, it's relaxing! It's just a bunch of friendly people in a large room, talking, joking, focusing, and making art in a serene environment. No pressure, no attitudes. It's always inspiring to be surrounded by other dedicated artists, it helps me push myself to keep working and creating. One of my goals has been sharing what I know, giving knowledge back to the tattoo world that's given me so much over the years. Through PAR I've achieved that goal, and it's brought me a lot of satisfaction and fulfillment, because I know it's appreciated by the other artists at the event.

To reserver your place at this years Paradise Artist Retreat in the beautiful Tamya Resort click HERE.
If you would like more information about Nick and his work you can visit his website: www.NickBaxter.com